SH 115 South: Spur 57 to SH 128
---
Project Description
The SH 115 South corridor is 49 miles in length and is located in Ward, Winkler, and Andrews counties. The corridor project begins at Spur 57 in the city of Pyote and extends north through the cities of Wink and Kermit, then turns northeast where the project limits end at SH 128 just inside Andrews County.
The goals of this project are to provide infrastructure that increases safety and improves mobility. Between 2016 and 2020, there were 402 crashes and 21 fatalities within these project limits.
The existing roadway is generally a two-lane undivided highway. Outside the cities, the proposed improvements to SH 115 include widening to a four-lane divided highway with two lanes in each direction. Within the cities, alternatives will be evaluated to provide the needed capacity while minimizing impacts.
Project Location Map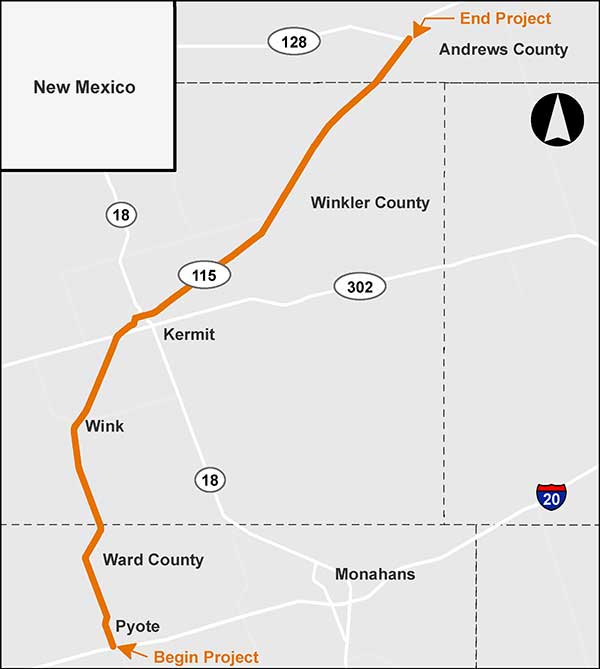 Existing Typical Section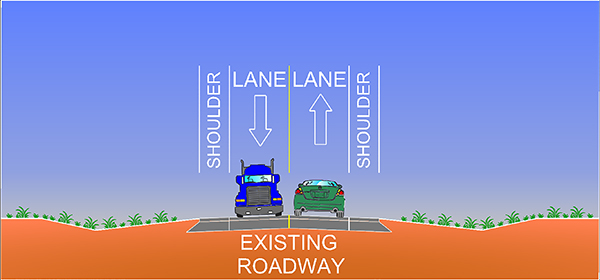 Proposed Typical Section
Public Involvement
The purpose of public involvement is to share project information and updates, present proposed project information, and collect public input. TxDOT is committed to working closely with the public on this project. All input will be considered as TxDOT moves forward in developing a plan to enhance the safety of this corridor while preparing for future growth.
Public Involvement Schedule (subject to change):
Spring 2023 - Public Meeting #2
Spring 2024 - Opportunity for Public Hearing and Schematic Approval
Fall 2024 - Anticipated Environmental Clearance
Downloads
Contact Information

Odessa District Office
3901 E. Highway 80
Odessa, TX 79761
(432) 332-0501
Email