US 57 Corridor Interstate Feasibility Study
Study overview
TxDOT is committed to improving mobility and increasing safety for motorists using the US 57 corridor from the US-Mexico border crossing in Eagle Pass to I-35 south of San Antonio. The TxDOT Laredo and San Antonio Districts are responsible for the US 57 corridor, which travels through Maverick, Zavala, and Frio counties and has three international border crossings: one for passenger vehicles, one for commercial vehicles, and one for rail.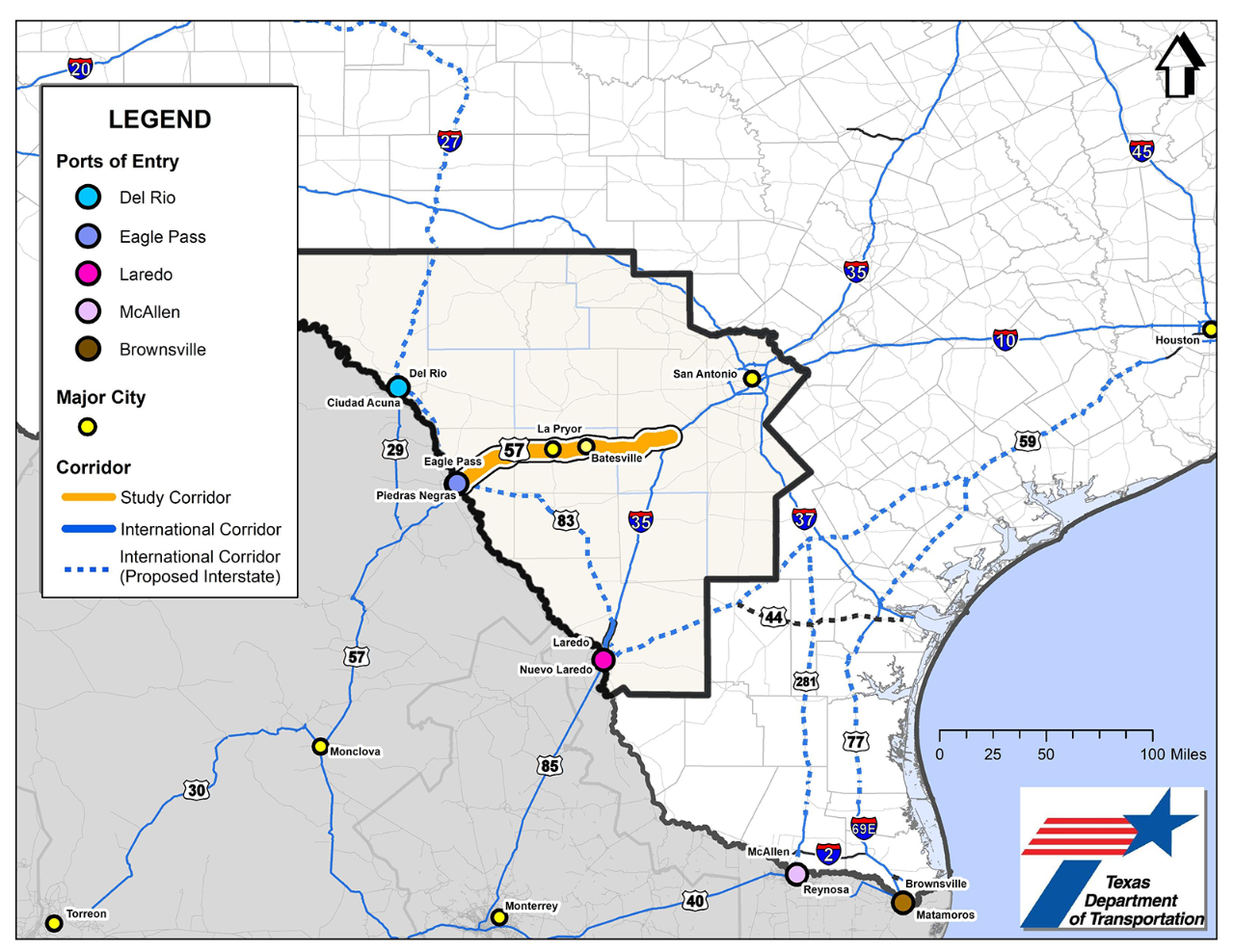 Study purpose
The purpose of the study is to evaluate the feasibility of converting US 57 to an interstate highway, as well as how to improve east/west connectivity, enhance safety, align with previous local and state planning efforts, and promote community development and economic opportunity at the border and along the corridor.
Study approach
The approach to conduct the US 57 Study is to:
Define the purpose and need for improving US 57
Evaluate interstate feasibility
Perform traffic, safety, and economic analyses for existing and future conditions related to congestion, safety, freight mobility, and cost-benefit
Develop and screen short, medium, and long-term transportation solutions
Formulate a phased and prioritized improvement program along US 57 using project prioritization metrics
Conduct and incorporate stakeholder and public input

Stakeholder and public engagement
Area stakeholders, cities, and counties along the corridor had several opportunities to provide input and comment on proposed improvements. The study team conducted two focus group meetings:
East – East of La Pryor to the corridor's intersection with I-35
West – West of La Pryor to the border crossing in Eagle Pass and into Coahuila, Mexico
TxDOT conducted an online virtual public meeting for participants to obtain information on the feasibility study process and improvement options, as well as submit comments on corridor needs. The virtual public meeting was available on Thursday, Oct. 13, 2022. The virtual public meeting video and other materials, including the public meeting summary, are available online and comments were accepted in a variety of formats.
Downloads