Engaging Texas in the Plan
---
Open houses were held throughout Texas in January through March 2019 and September through October 2019. The TTP 2050 open houses featured information on TxDOT's 2050 goals and objectives, revenues and expenditures, safety initiatives, and local transportation data. Attendees gave their input using an online, interactive "investment choices" tool. The results from this tool and a transportation usage survey will help inform TxDOT's long-range transportation plan, the TTP 2050. The Draft TTP 2050 is now available.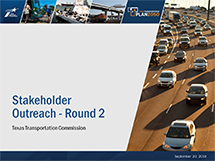 Watch the 2050 Presentation
Virtual Public Hearing
A virtual public hearing was held on Tuesday, Aug. 11. View the public hearing presentation and submit comments.
Virtual Open House
If you were not able to attend in-person, you can view the open house online via the TTP 2050 Virtual Open House.
2050 Plan
Public Outreach Schedule

Round 2
| City | Date |
| --- | --- |
| Laredo | 09/24/19 |
| Corpus Christi | 09/25/19 |
| Pharr | 09/26/19 |
| Amarillo | 10/01/19 |
| Lubbock | 10/02/19 |
| Abilene | 10/03/19 |
| Houston | 10/07/19 |
| Tyler | 10/08/19 |
| Dallas/Fort Worth | 10/09/19 |
| San Angelo | 10/21/19 |
| Odessa | 10/22/19 |
| El Paso | 10/23/19 |
| San Antonio | 10/29/19 |
| Austin | 10/30/19 |

Round 1
| City | Date |
| --- | --- |
| San Antonio | 01/29/19 |
| Austin | 01/31/19 |
| Laredo | 02/05/19 |
| Corpus Christi | 02/06/19 |
| Pharr | 02/07/19 |
| Houston | 02/19/19 |
| Tyler | 02/20/19 |
| Dallas/Fort Worth | 02/21/19 |
| Abilene | 02/26/19 |
| Lubbock | 02/27/19 |
| Amarillo | 02/28/19 |
| El Paso | 03/05/19 |
| Odessa | 03/06/19 |
| San Angelo | 03/07/19 |