TxDOT Houston Sober Ride Campaign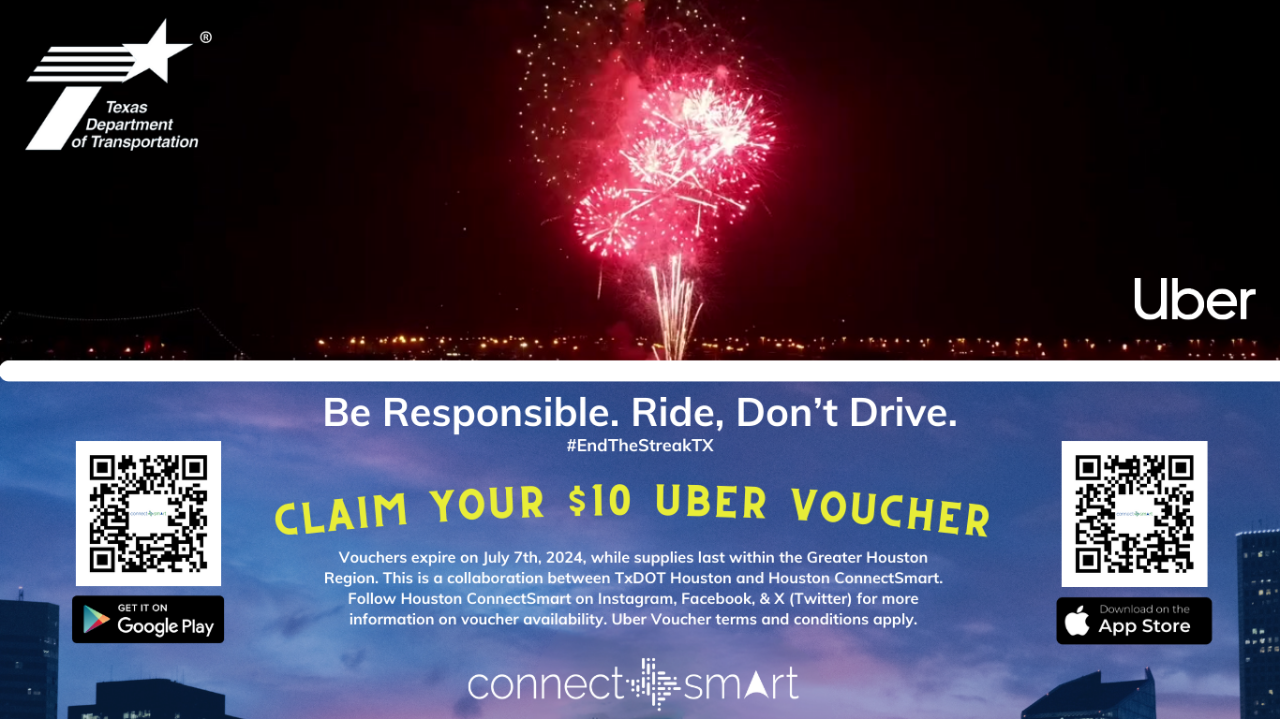 TxDOT has partnered again with the Governors Highway Safety Association, Responsibility.org, and Lyft to offer $20 Lyft ride credits to the Houston District (Harris County, Montgomery County, Galveston County, Fort Bend County, Brazoria County, and Waller County).
Texas consistently leads the United States in crashes and fatalities therefore, it is no surprise it also leads in impaired driving. In 2021, Texas had 1,135 alcohol-impaired driving fatalities, with the highest concentration in Harris County at 243 lives lost. Due to this high number of lives lost, TXDOT is investing in a myriad of different initiatives, from education to enforcement, to bring these numbers down and save more lives.
This is the fifth year we have consistently provided ride-hailing app credits for the winter holidays. The goal is to urge individuals who consume alcohol and other impairing substances to use ride-hailing services rather than put themselves and others at risk on the road.
"Impaired driving is one of the major problems on our Houston roads and with the help of the Governors Highway Safety Association, Responsibility.org and Lyft, we are able to provide $20 Lyft codes to encourage those going out for a fun night to ride not drive to keep our roads safer." - Matthew DeLeon, TxDOT Behavior Traffic Safety.
"Ride-hailing services have been shown to reduce crash and impaired driving rates by offering an alternative to getting behind the wheel impaired. An independent, peer-reviewed study published earlier this year in the Journal of the American Medical Association found that after Uber entered the Houston market in 2014, weekend motor vehicle crash traumas decreased by 38.9 percent or people under 30, an age group more likely to drive impaired. The analysis also found that DUI arrests decreased across the board after Uber's arrival, with the greatest reduction on Friday, Saturday, and Sunday." - Governors Highway Safety Association
For more information, please contact the Houston District traffic safety representative at 325-939-1658 or via email.