The $301 million Irving Interchange project will include the reconstruction of interchanges at SH 183, SH 114, Loop 12, and Spur 482. Loop 12 will be reconstructed and widened from six to eight lanes for a length of 1.2 miles that begins on the south end of Union Bower Road to the north of Texas Plaza Drive. The project will also include the widening of SH 114 from Loop 12 to SH 183 and Spur 482 with direct connectors. Spur 482 will be reconstructed from west of Century Center Boulevard to the interchange and will tie into SH 183 with direct connectors.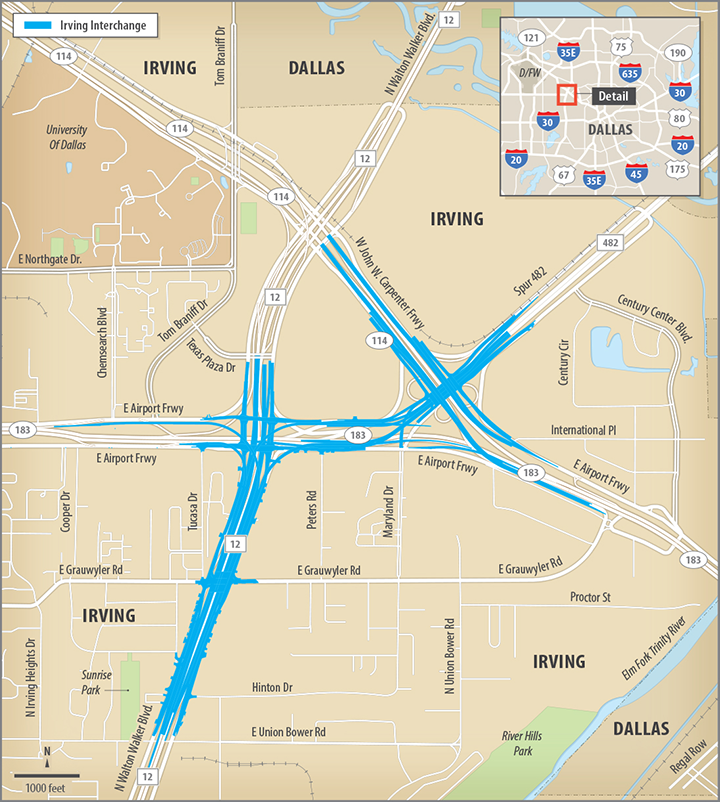 This is a Texas Clear Lanes project. Texas Clear Lanes is a statewide strategic plan to provide congestion relief through non-tolled roads and is focused on the five largest metro areas in Texas.
The overall length of the project is about 9.6 miles including bridges and direct connectors.
Phase 1 of the Irving Interchange was completed in 2013 which reconstructed the interchanges at SH 114 and Loop 12. The SH 183 Midtown Express design-build project also recently completed interim improvements in the area. The Irving Interchange project will construct the ultimate phase of the interchanges at SH 183, Loop 12, SH 114, and Spur 482.
Construction Schedule
Construction began late 2020 and is anticipated to be complete mid-2023, weather permitting.
Summer 2021 Construction Update
The project is at 25 percent completion
Several bridge structures are partially complete including the southbound Spur 482 to southbound Loop 12 direct connector and the SH 114 overpasses at Spur 482
Substructures for bridges over Loop 12, SH 183 and Spur 482 are partially complete
Traffic has switched onto the new pavement along the northbound Loop 12 frontage road
Roadway work such as excavation and paving continues throughout the project
Drainage and pipes along Loop 12, SH 183, SH 114 and Spur 482 are under construction
Temporary ITS has been completed
City utility work is ongoing along Grauwyler Road and is 95 percent complete
Virtual Groundbreaking Celebration
Downloads
Contact Us

Dallas District Office
4777 E. Highway 80
Dallas, TX 75150
(214) 320-4485