Loop 360 provides primary access to far west Austin, acting as a thoroughfare for residents and as a commuter route for those living and working along the highway and those passing through. It provides access to a major Lake Austin boat ramp as well as Travis County greenbelts. The scenic highway is also a popular recreational bike route.

In 2014, Loop 360 was the 98th most congested road in Texas with over 155,000 annual hours of delay per mile. It is particularly congested during "rush hour," taking over 60 percent longer to travel during peak travel periods than during normal, free-flow conditions.

A corridor improvement study is currently underway for Loop 360 from US 290/SH 71 to North MoPac (Loop 1), a distance of 14.5 miles.

Study Approach and Purpose

The study will take a grassroots approach by involving groups and individuals throughout the community. The purpose of the study is to identify needs and gather ideas and feedback about potential safety and mobility improvements within the Loop 360 corridor. Stakeholders will review an array of improvement options to meet rapidly growing traffic demands.

The study will solicit comments from all potentially impacted interests, including commuters, adjacent property owners, businesses, environmentalists, bicyclists and neighborhood associations. It will consider and address issues related to potential aesthetic and environmental impacts, home values, bicycles/pedestrians and other issues identified through stakeholder input.

Study Process
The Loop 360 Improvement Study will be conducted in a four-step process that engages stakeholders on an ongoing basis: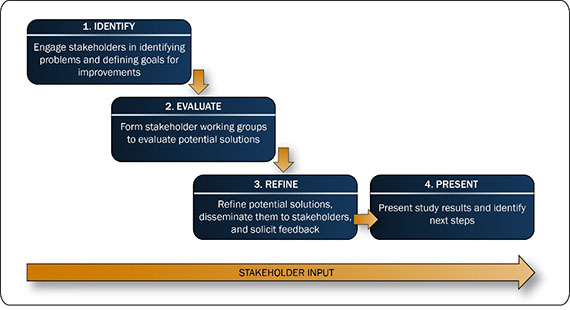 Get Involved
TxDOT wants to hear about community needs, concerns and ideas for the future of Loop 360. Although the Public Survey for Loop 360 is closed, public comments may still be submitted online and results of the Survey Responses are available. Information gathered from the community will guide future planning. Participation opportunities include:
Stakeholder Meetings: Loop 360 has been divided into six sections generally corresponding with major intersection groupings along the corridor. TxDOT will meet with representatives from neighborhood and homeowners associations, businesses, schools and other groups within each section of the corridor during each step of the process to address both local and corridor-wide issues.

Public Comments: Written public comments will be accepted and addressed throughout the study process. Comments may be submitted online or mailed to:
Public Involvement Lead
Project Manager
360/620 Corridor Improvement Studies
Texas Department of Transportation - Austin District
P.O. Box 15426
Austin, TX 78761-5426
Questions: All questions related to the Loop 360 Improvement Study may be directed to Bruce Byron, Project Manager, at (512) 832-7107.
Mailing List: Sign up for the Loop 360 mailing list to receive updates on important study milestones and public input opportunities.
Related Projects

Below are files from the 360 Improvements from Walsh Tarlton to Barton Creek Plaza project.

More Information