October Archived Cultural Resources Highlights
---
Bridging the Past and Present: Cultural Resources Highlights
Learn more about Texas' history and archeology as we share stories from the road.
Oct. 31, 2016 - Learn more about TxDOT Archeology's work in 2016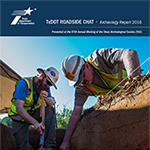 In 2016, TxDOT excavated more than 5,000 cubic feet of dirt during archeological investigations. But that's not all!
As we review projects under the guidance of the National Historic Preservation Act (NHPA), we work in the spirit of preservation to share stories about Texas' history.
Read more news and highlights from the field in the first comprehensive report presented by the TxDOT Archeology program. You can request a print copy by contacting us.
Oct. 17, 2016 - October is Texas Archeology Month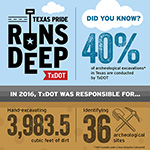 Texas pride runs deep and for Texas Archeology Month, TxDOT is proud to be part of the discovery of some of the state's most interesting archeological sites.
Join TxDOT for several events to see artifacts and enter for a chance to win tickets to Inner Space Cavern. The cavern, which was discovered by TxDOT in 1963, is just a few miles from the Wilson-Leonard site in Williamson County, which contains evidence from every prehistoric time period in Texas.
The Spin-to-Win contest to win a Family Four Pack to Inner Space will take place at Texas Archeology Month events and beyond, including:
TxDOT will also present Saturday, Oct. 29 at 1 p.m. at Inner Space Cavern alongside the team that first discovered the cavern in 1963.
Cultural Resources Highlights Blogs
Contact Us
Director of Cultural Resources Management
(512) 416-2628
Email